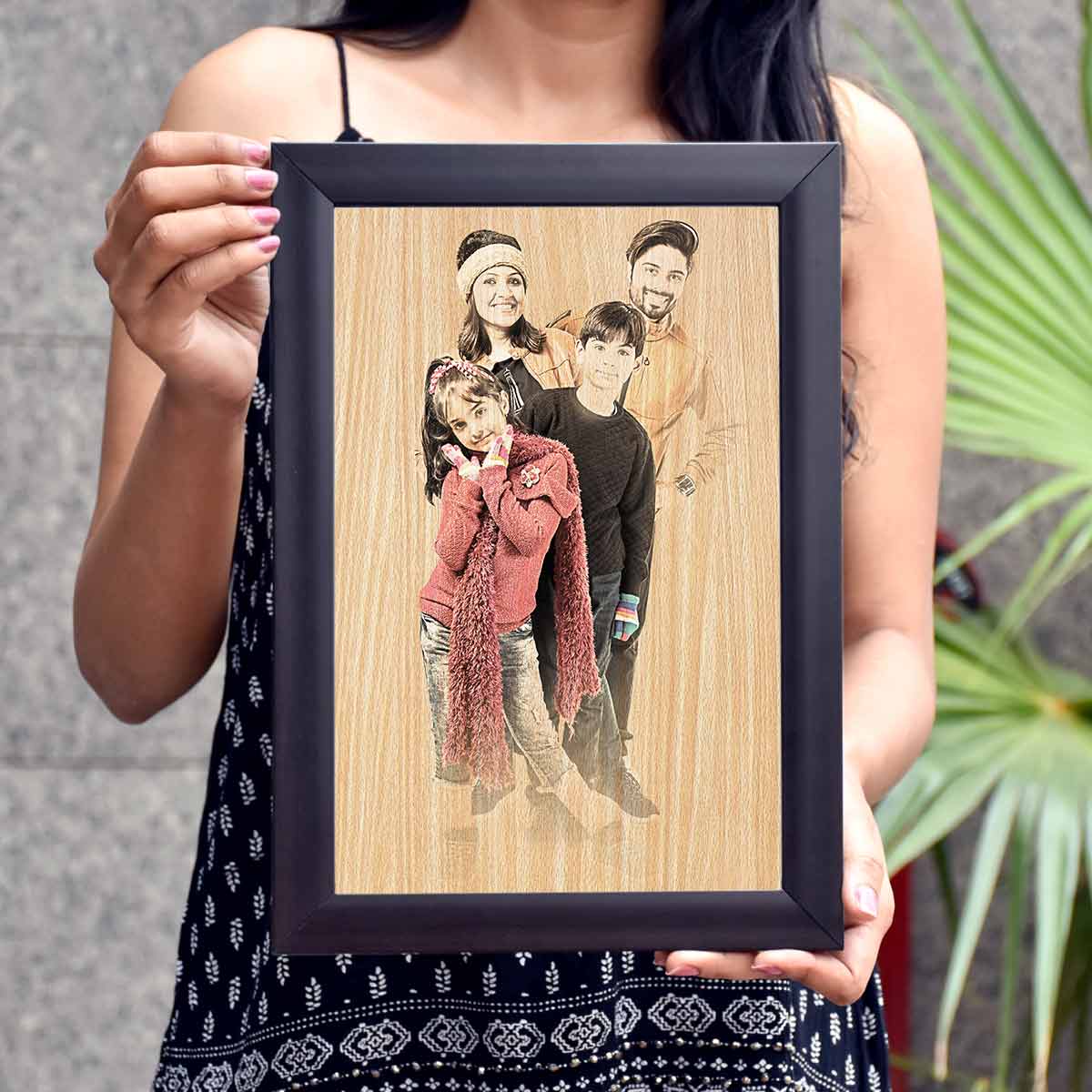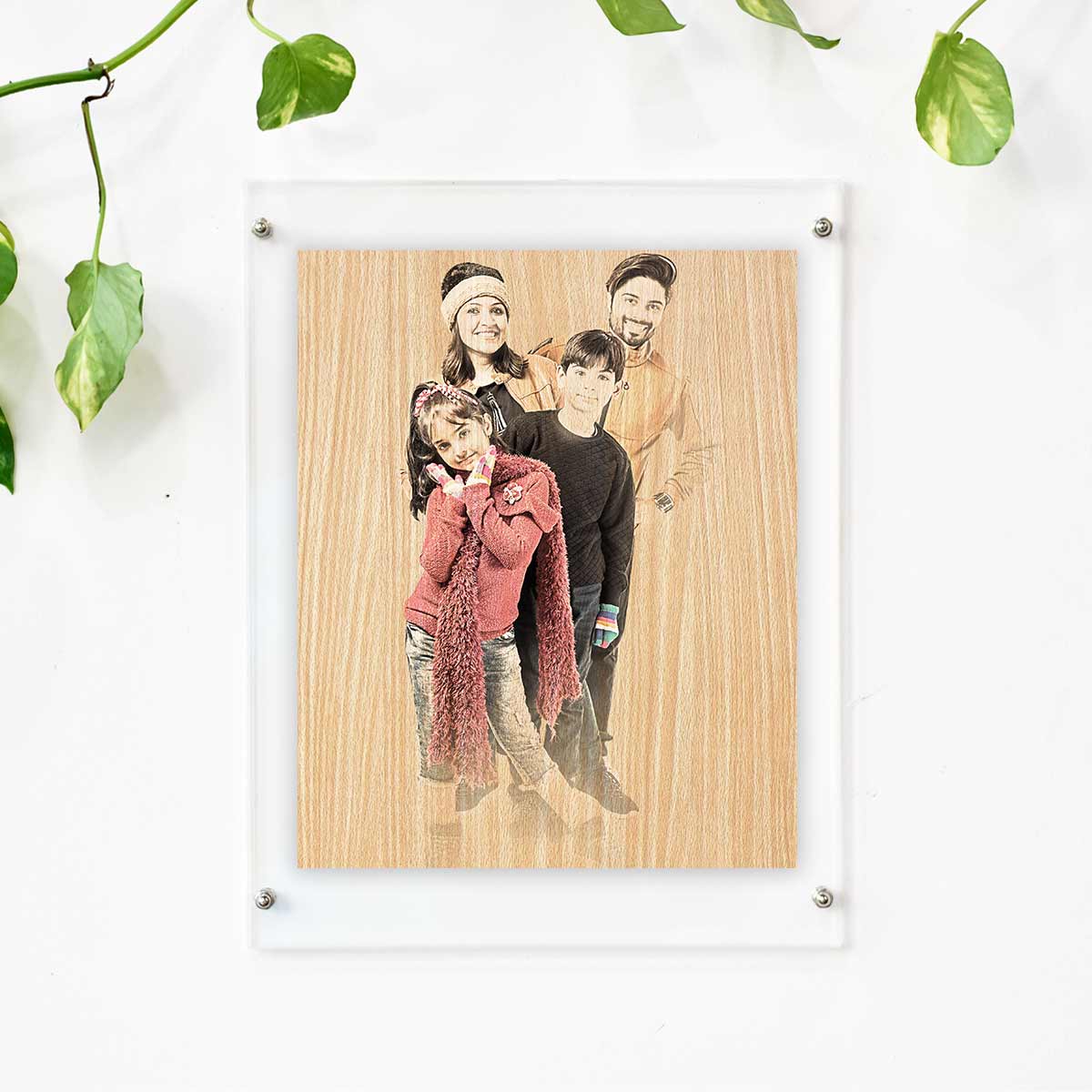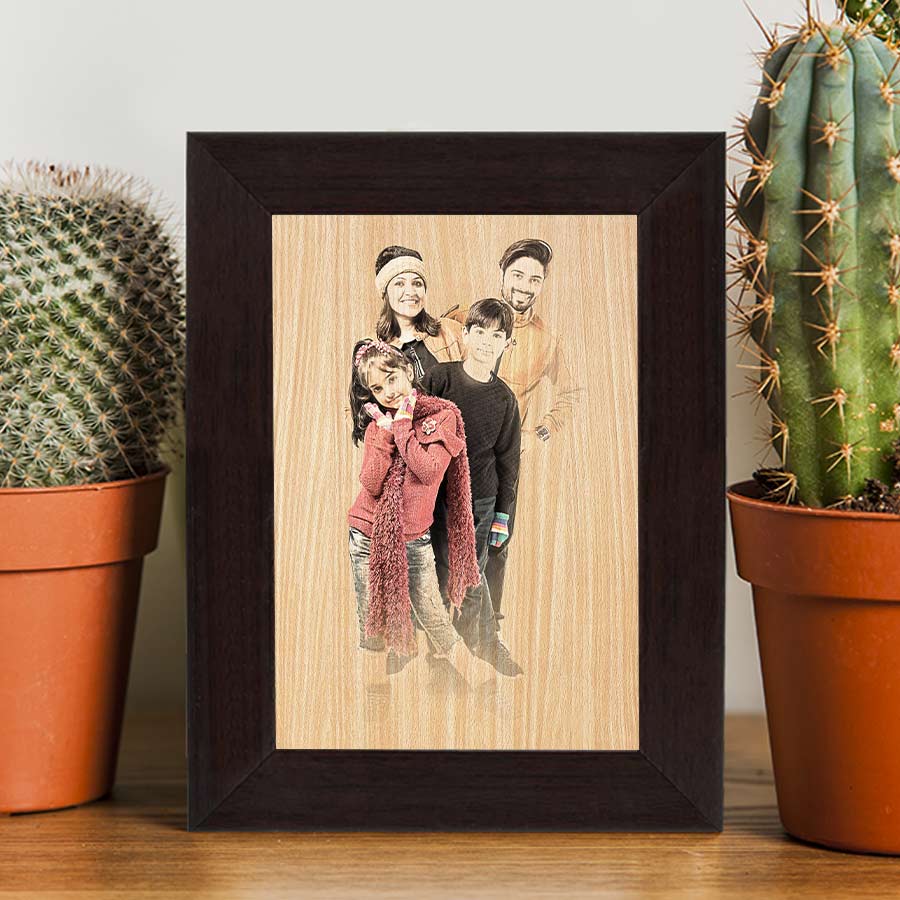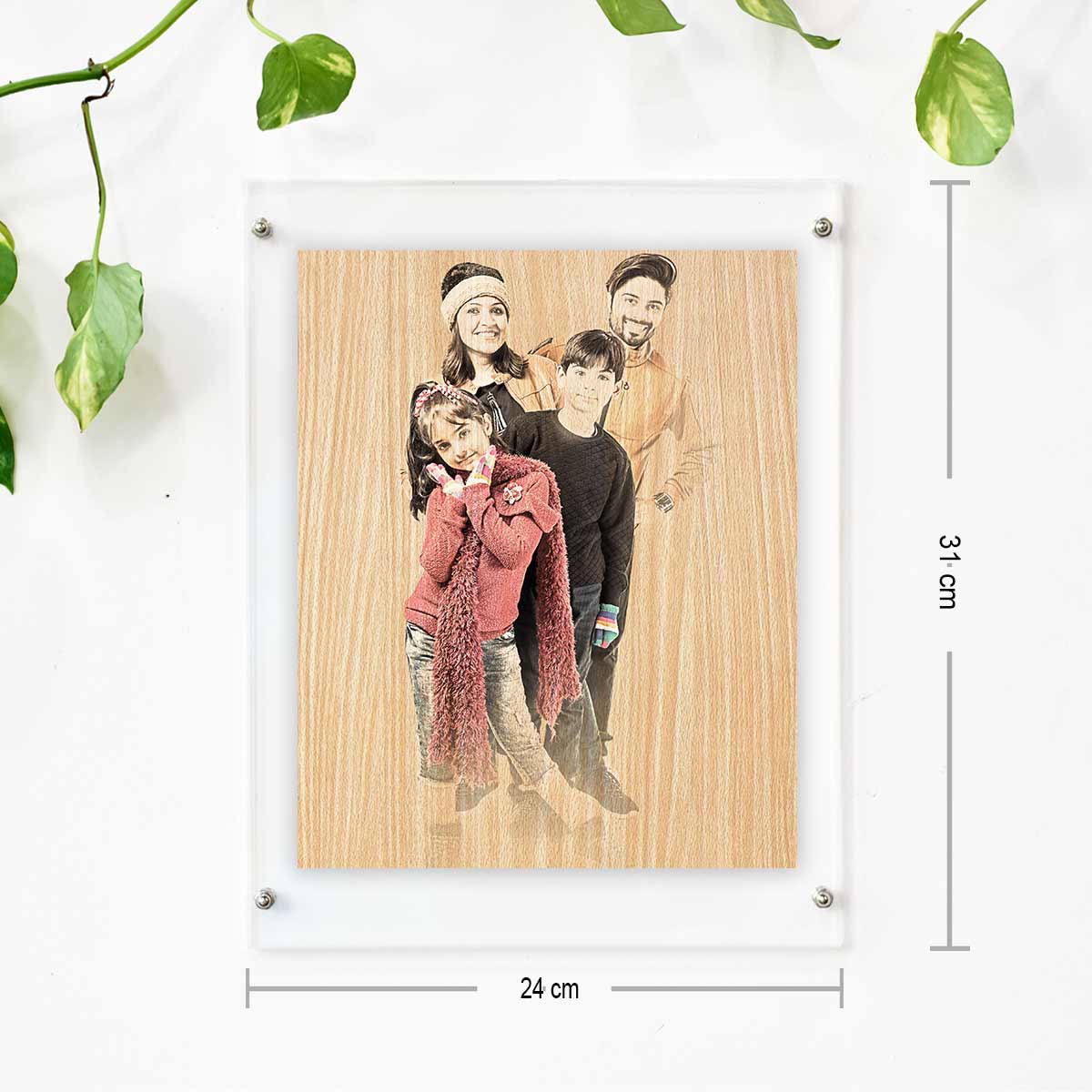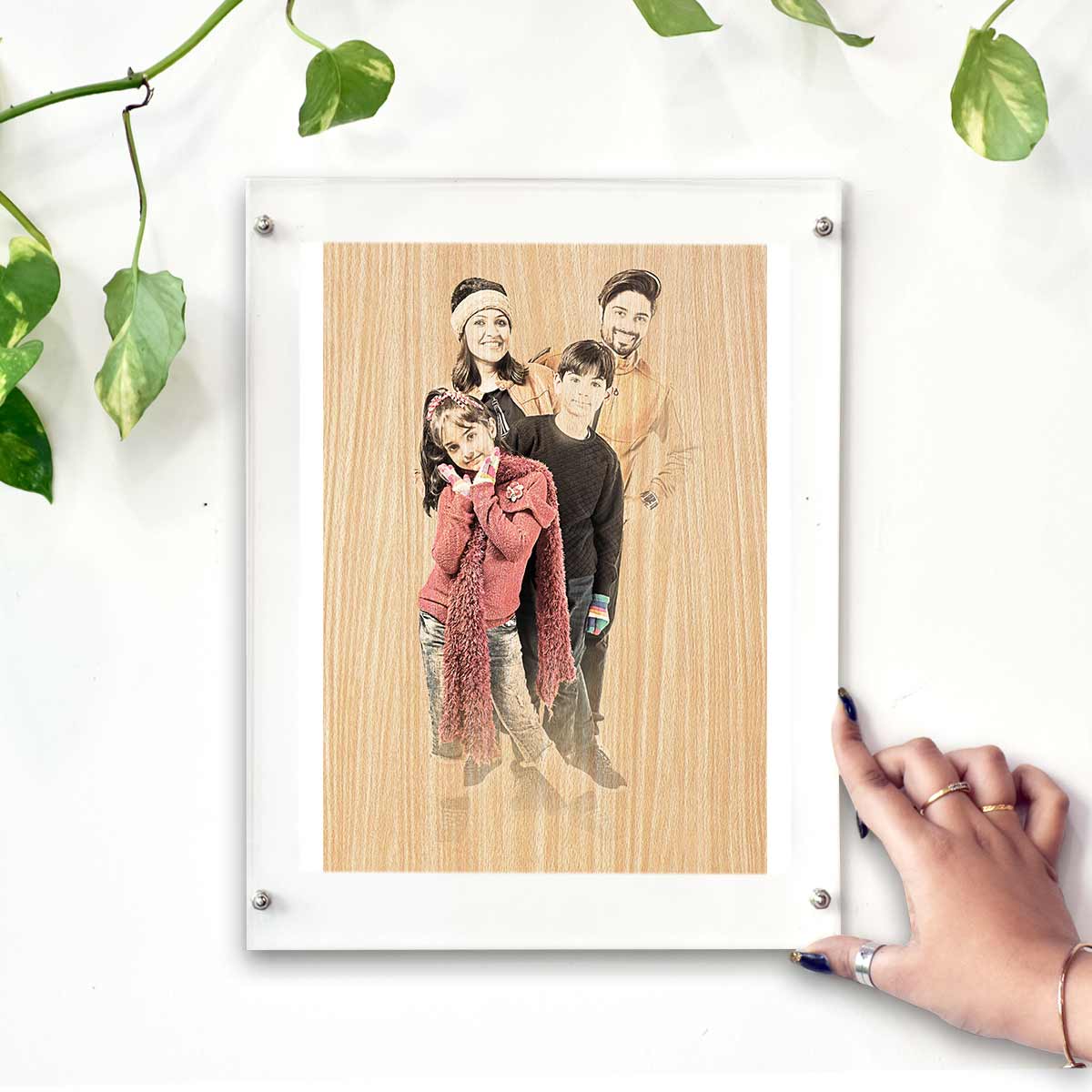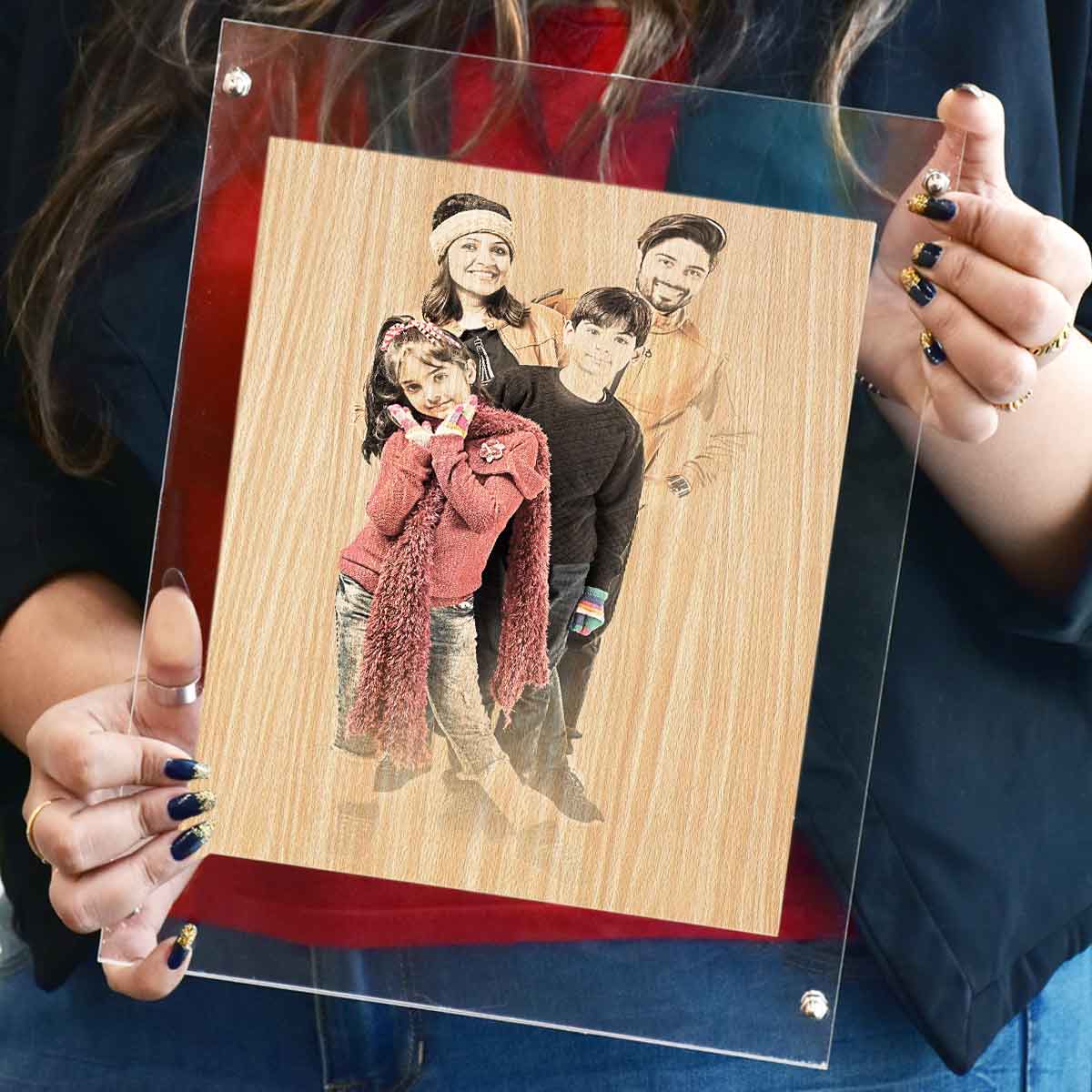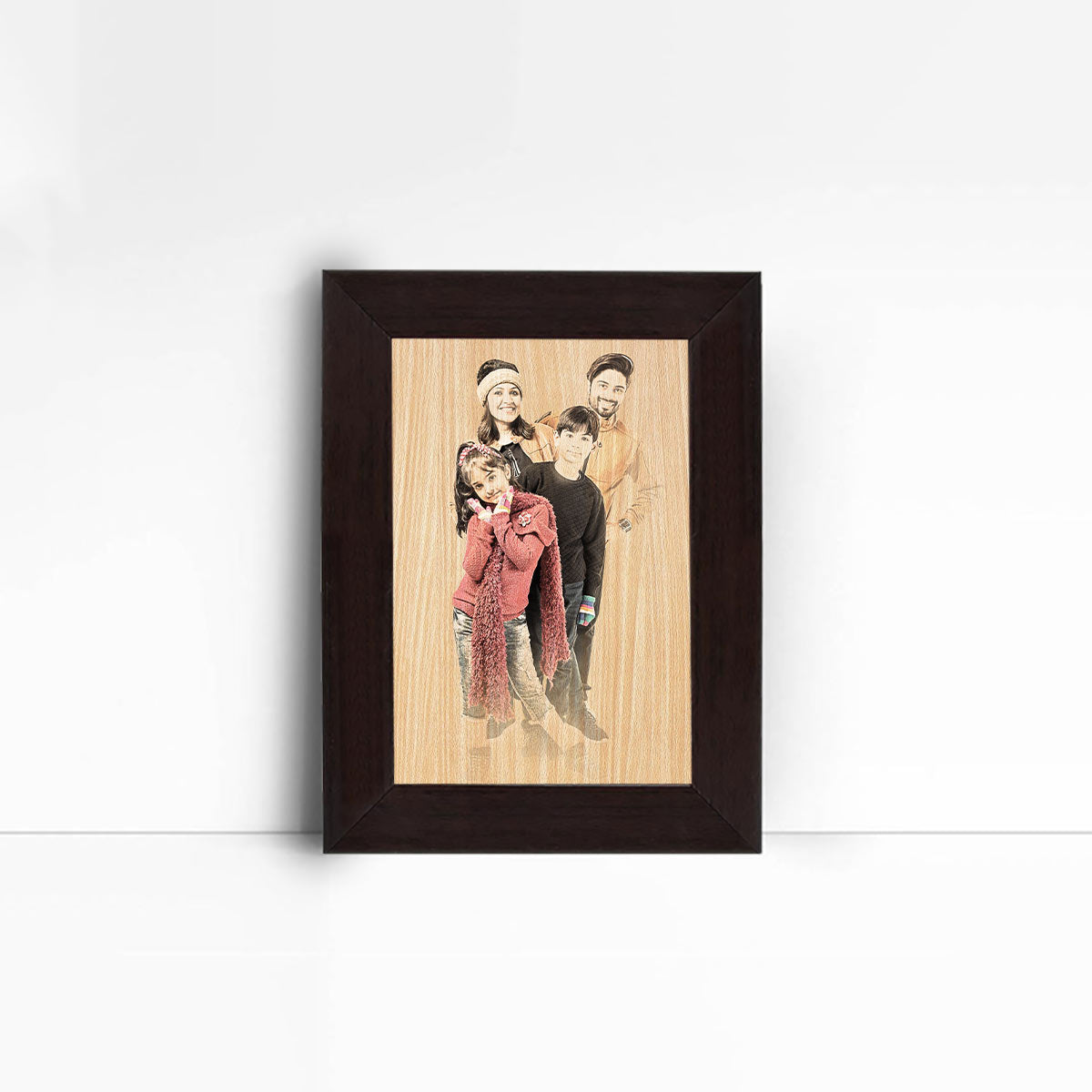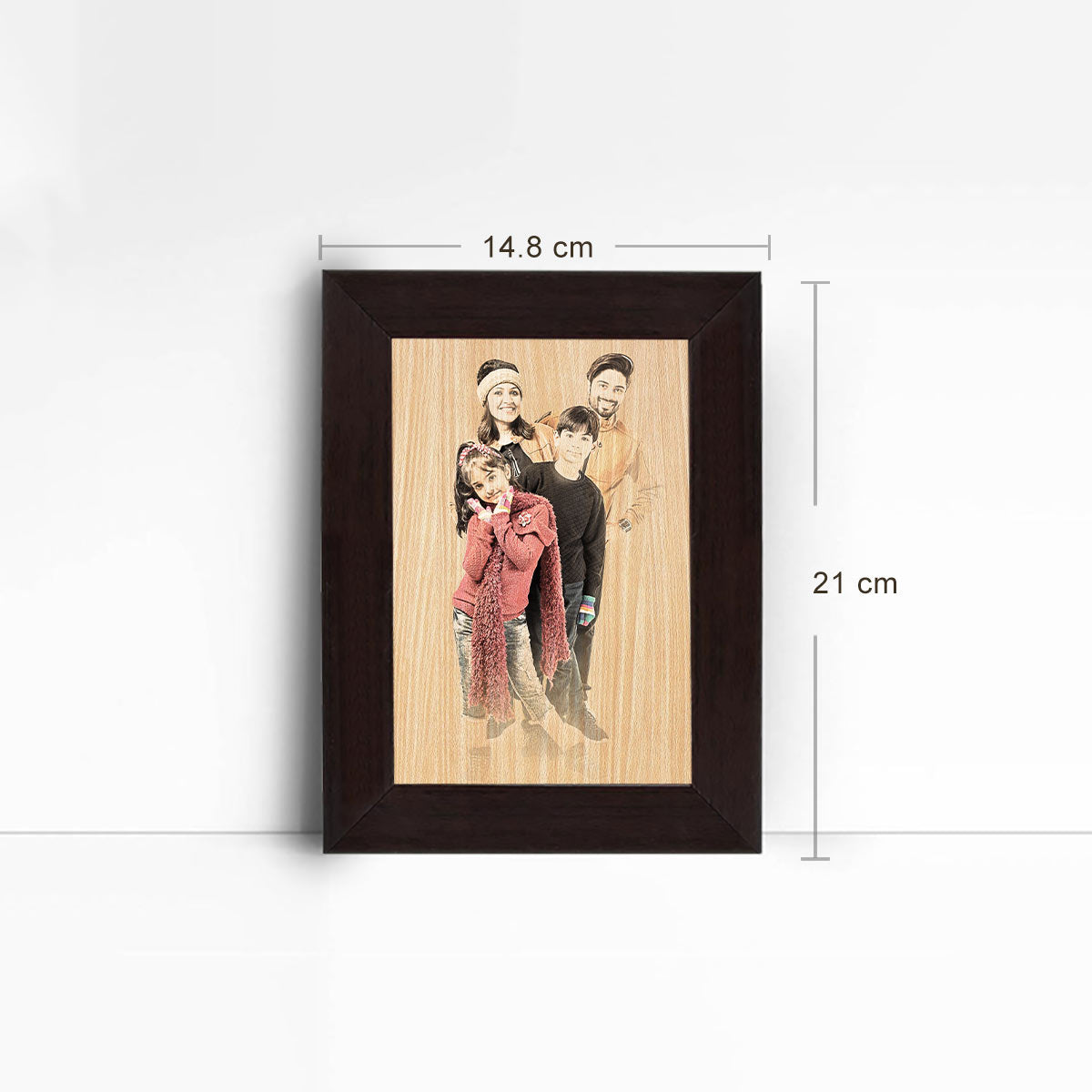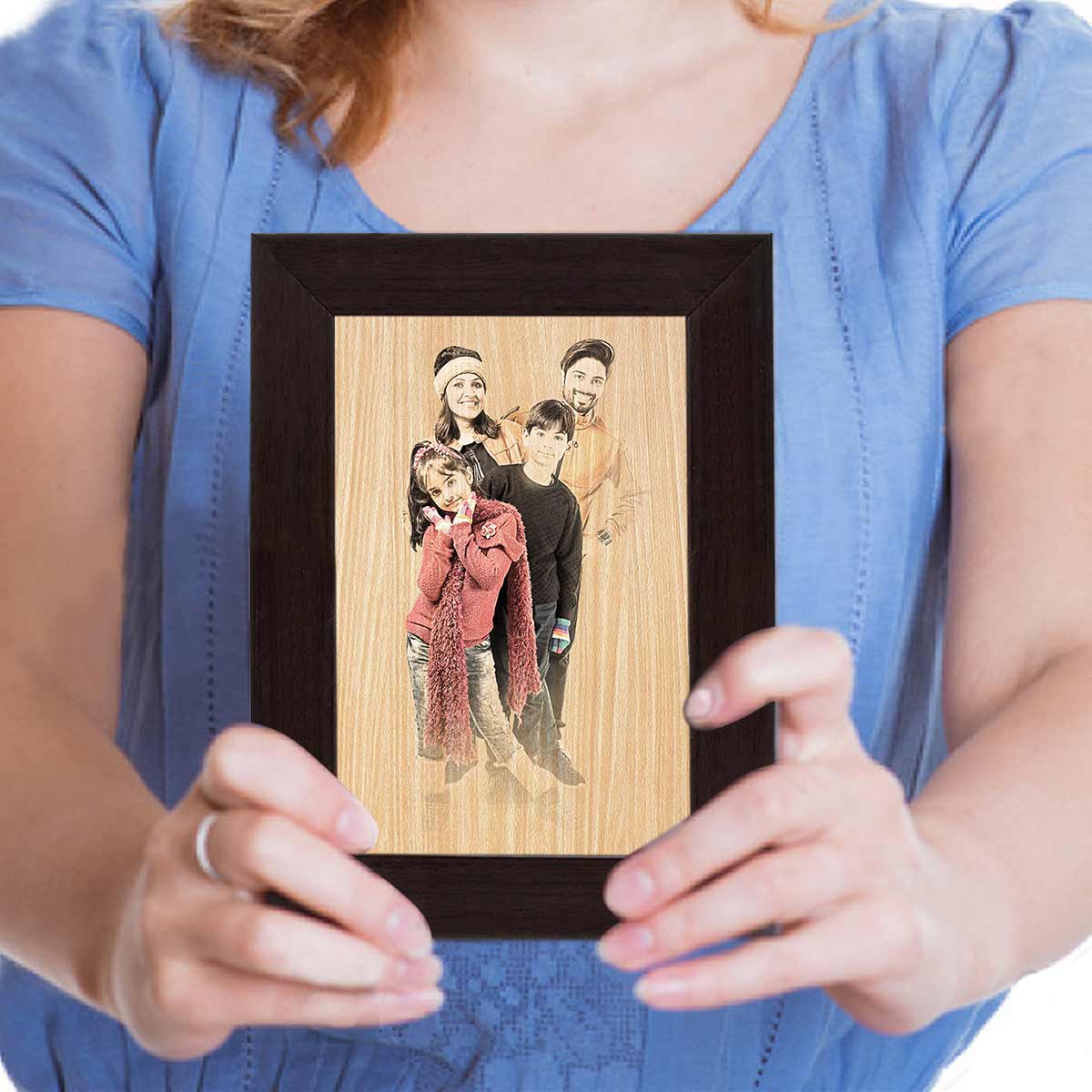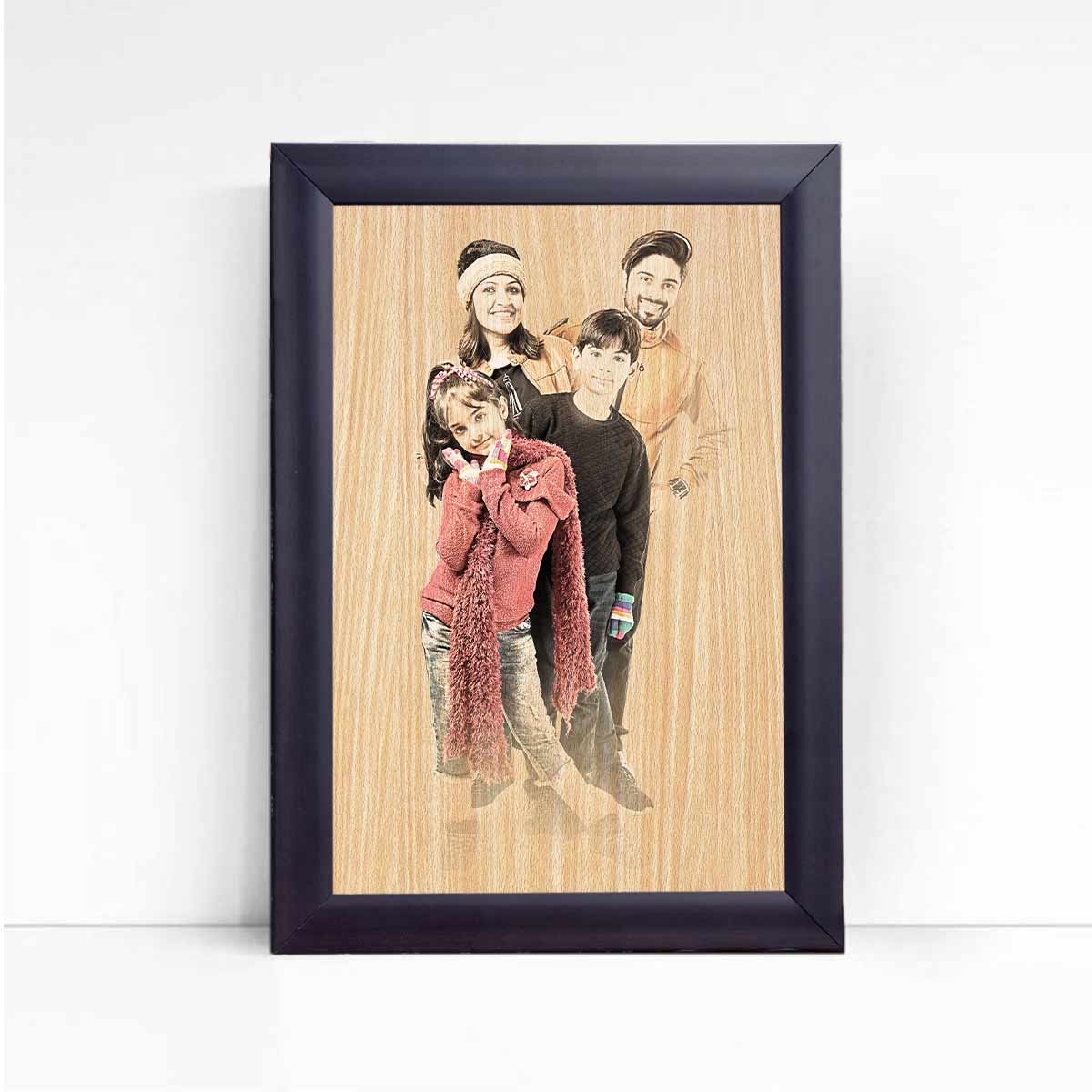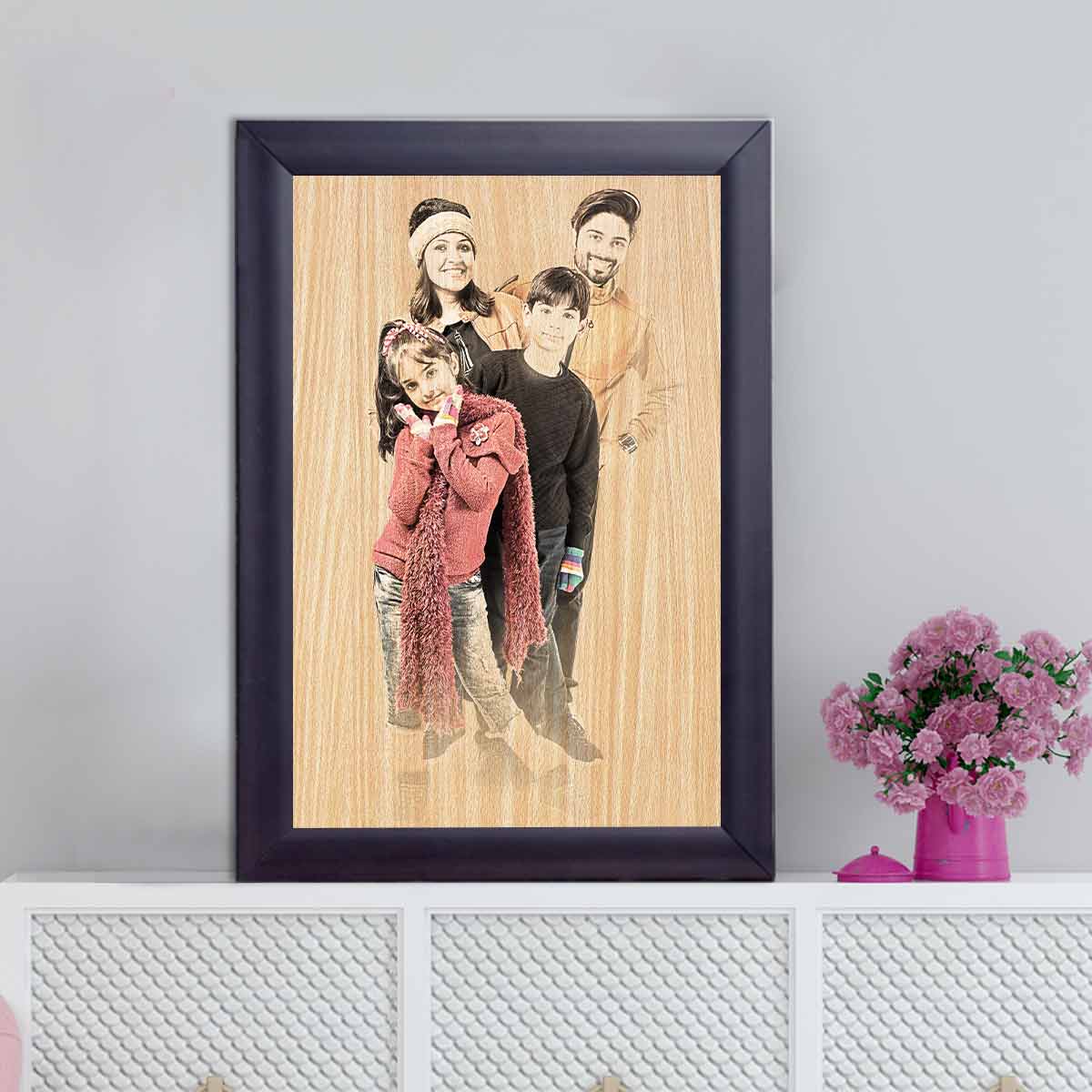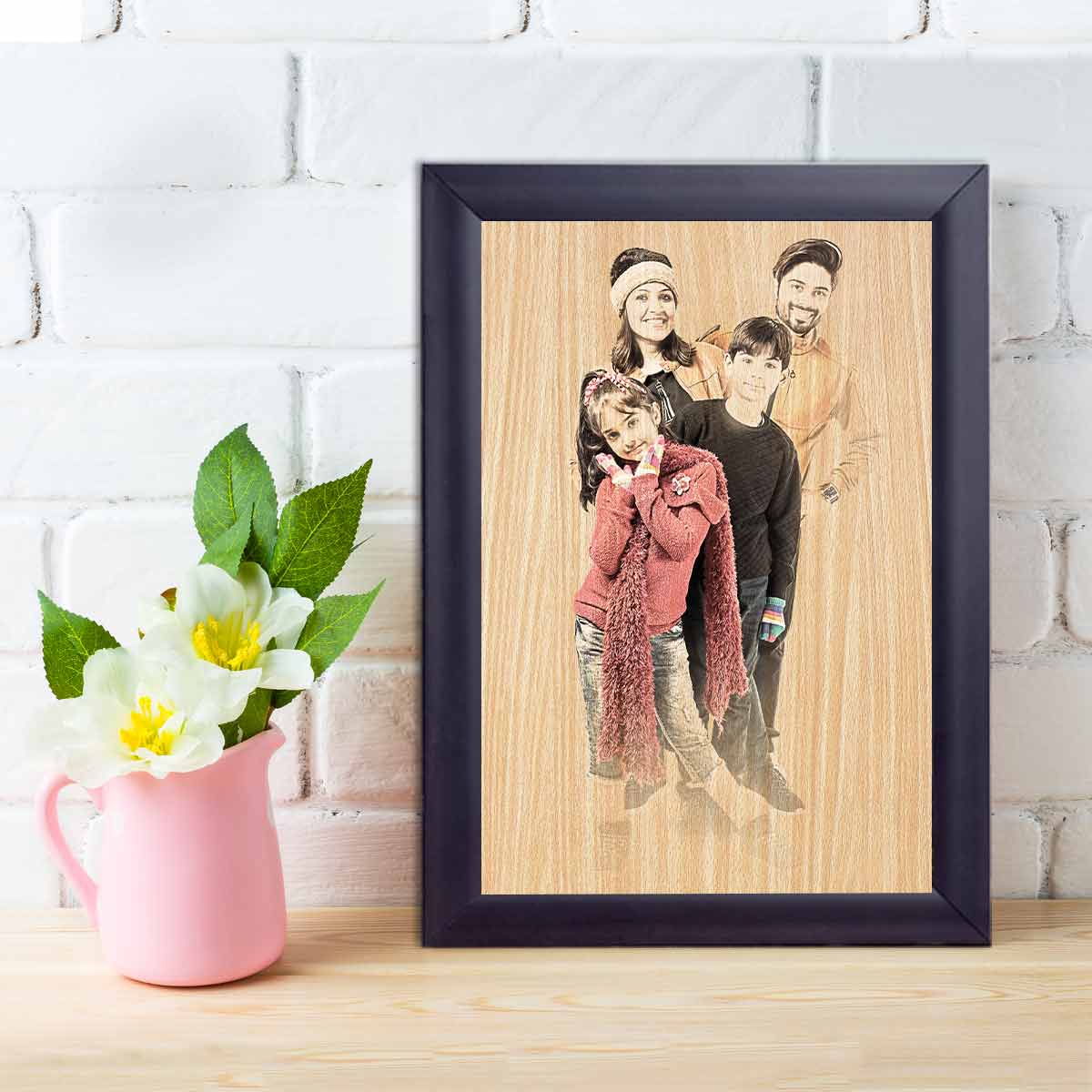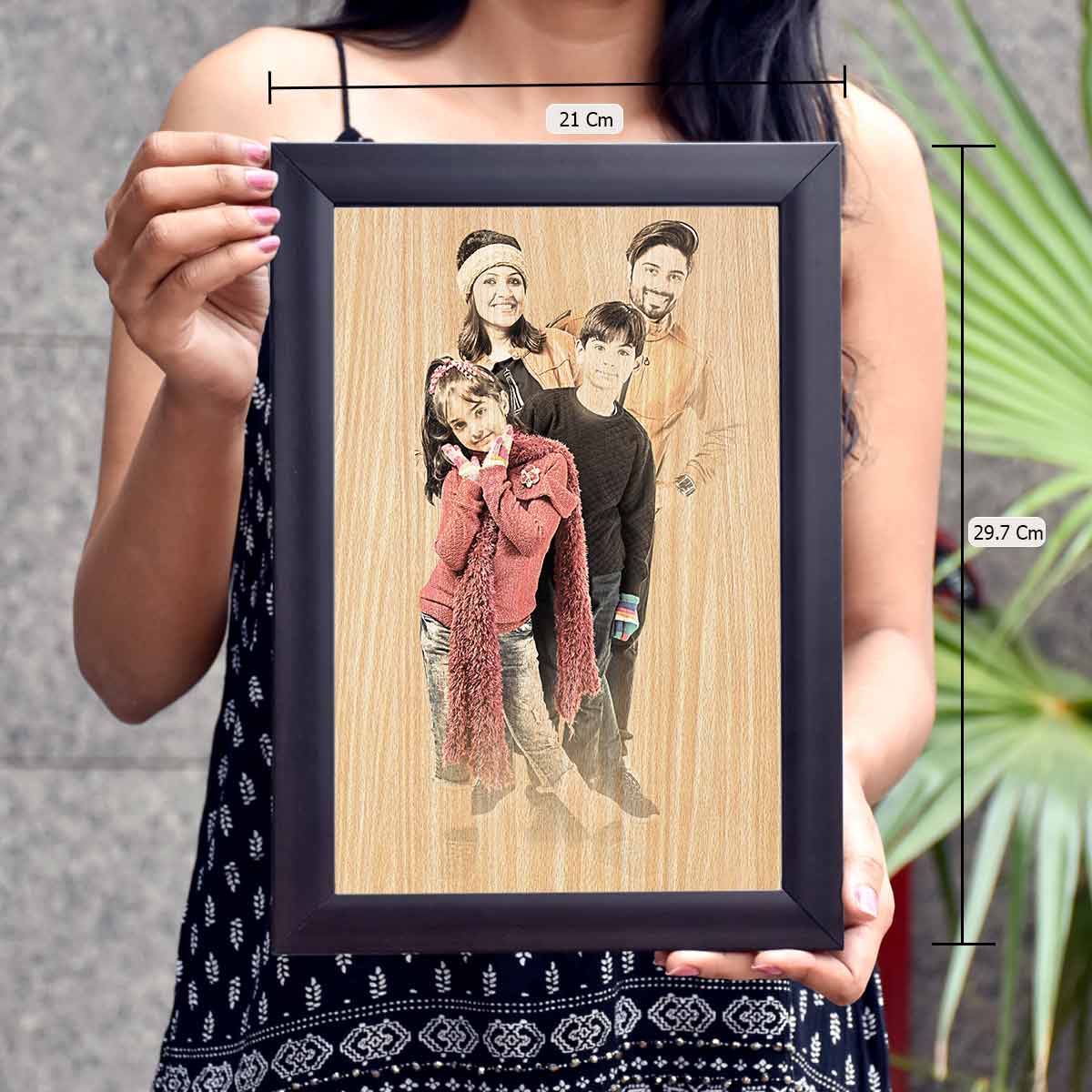 Personalised Wood Texture Print Poster Frame Family
Material & Size:
Wooden A4
In stock
Delivery in :

4 - 6 Working Days
Personalised Wood Texture Digital Painting Poster Frame is a stunning and unique piece of art that combines the beauty of wood textures on print with the precision of digital painting. This frame is the perfect and unique way to showcase your favourite memories or add a touch of sophistication to any space.

Giftcart's Personalised Wood Texture Digital Painting Poster Frame features a meticulously crafted design that mimics the rich and intricate patterns found in natural wood. Each detail is digitally created to ensure a flawless and realistic appearance, capturing the essence of nature's elegance.

Using cutting-edge technology, we employ high-definition printing techniques to transfer the digital painting onto premium 180 gsm glossy paper. This process guarantees exceptional colour accuracy, sharpness, and detail, resulting in a truly breathtaking visual experience. The glossy finish adds a touch of sophistication, enhancing the overall vibrancy and depth of the artwork.

What sets our Personalised Wood Texture Digital Painting Poster Frame apart is the option to personalise it. We understand that everyone has their own unique style and preferences, which is why we offer customisation options. Whether it's adding a name, a special date, or a meaningful quote, our skilled designers can tailor the design to reflect your individuality.

The Personalised Wood Texture Digital Painting Poster Frame is not just a work of art, but also a functional and versatile decor piece. It comes ready to hang, making it effortless to adorn your walls with elegance. The frame's sleek and minimalist design complements various interior styles, making it suitable for homes, offices, or any space that could use a touch of refined beauty. Elevate your decor to a new level of sophistication. Immerse yourself in the exquisite combination of wood textures and digital artistry, celebrating the union of nature and technology. This frame makes a perfect gift for loved ones, a remarkable addition to your own collection, or a statement piece for any space that deserves to be transformed into a gallery of artistic wonder.
Personalization: Yes
Dimensions: A4 Wooden-32 x 24 cm (12.5x9.5) and A5 Wooden- 22 x 17 cm (8.7x6.5) and Acryilc: 31 x 24 cm (12.5 x 9.5)
Material: Synthetic Engineered Wood and Plexiglass / Acrylic
Product Weight: Wooden A5: 200 gm & Wooden A4 & Acrylic: 800 gm
Package Weight:Wooden A5: 280 gm & Wooden A4 & Acrylic: 1000 gm
Number of Items: 1
Marketed By :Giftcart Ecommerce Pvt Ltd
Customer Care :+91-9910644899
Email : cx@giftcart.com
Country of Origin: India
Gift Hampers
The colour of the shipped product is subject to the availability of stock
The packaging of the product may vary slightly from that shown on images on our website.
In the event of, same hamper/hamper items not being available, we will replace with a hamper/hamper items of equal or higher value.
For photographic purposes, some gift hampers are displayed with props. These props are not included in the gift hamper unless listed in the description.
Desk Clocks
The clock mechanism has no cover. This can be tightened easily, if at all, the clock machine gets loose during transportation.
Chocolates
In extreme weather conditions the chocolate may be damaged by heat exposure during shipping. It's advisable to keep your chocolate in the refrigerator or freezer before using.
Cushion
The cushion is delivered vacuum compressed for efficient delivery. It will regain it's original shape once its taken out from the packaging.
Spoof Newspaper Cover
The frame shown in the gallery image is for illustration purpose only and not included.
With the above details given in the description & Key features, Customer is made fully aware that the mastheads or titles of any publication is only for fun purpose, and the product is fake / spoof product and not real newsprint, thus any misrepresentation is strictly prohibited. All the content/specifications that are provided by the customers are for creating fun moments in the form of gift.
For complete disclaimer visit https://www.giftcart.com/websiteterms
Personalised Products
The content / image given in the product photo is for reference. The product will be created as per details provided in the options.
For any special instructions you can add in note at checkout or whats app: +91 9910644899 email: cx@giftcart.com
Wooden Engraved Products
The content / image given in the product photo is for reference. The product will be created as per details provided in the options
For any special instructions you can add in note at checkout or whats app: +91 9910644899 email: cx@giftcart.com
The picture may seem darker in the product image above than the actual product.
The laser engraving is done on natural beech wood. The wood may have its natural grains and infirmities which are natural and not defects.
Flowers & Cakes
Since flowers & cakes are perishable in nature, we will be able to attempt delivery of your order only once.
This product is hand delivered and will not be delivered along with courier products.
Occasionally, substitution of flowers is necessary due to temporary and/or regional unavailability issues.
Approval Delays
If you have opted for an approval copy ensure you check your email / whats app for an early response to the approval copy sent to you. Any delay in the approval from your end may delay the delivery of the product.
General
All Pictures shown are for illustration purpose only. Actual product may vary.
Due to differences in monitors, colours of products may slightly vary to those shown on the site.
Giftcart reserves the right to change product images and specifications at any time without notice.
How to personalise?
1. Provide the information required for personalisation in the fields provided. (Text and 1000 x 1000 resolution upload of Photo as required)
2. Tick the check box If you wish to see the preview. The preview will be emailed or sent to you on WhatsApp
3. Click Add to cart' button or Buy Now button to proceed to cart page or checkout
4. For any query reach out to our Customer Care Team. Email to cx@giftcart.com or send WhatsApp to +91-9910644899

Our personalised products are tailored specifically to your preferences and cannot be returned or refunded due to their unique nature. Please ensure the accuracy of all personalization details before confirming your order, as we are unable to accept cancellations or provide refunds once production has begun.